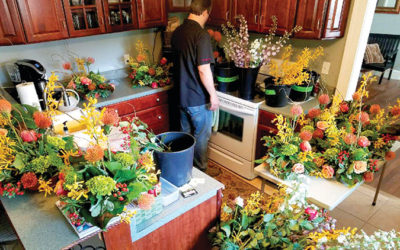 Local nonprofit brightens days for the elderly
Originally Published In Folio Magazine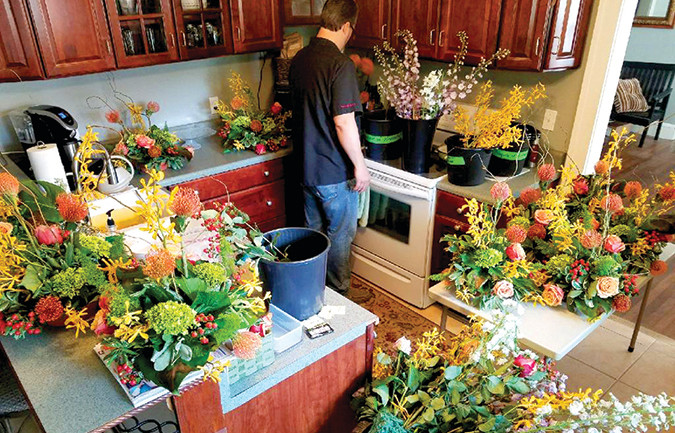 Sophistication used to carry status. Jazz used to be hip. Having life experience meant you were someone with answers. In short, the older you got, the more value you had to society.
Somewhere along the way, the script got flipped. Youth is the order of the day; we have collectively swallowed the idolization of youth culture. The elderly are relegated to nursing homes, eldercare facilities, assisted living, retirement homes, etc. to pass their remaining days, often forgotten and ignored by collective society.
A new 501(c)3 nonprofit launched last year with a mission to bring life, connection and color to Northeast Florida's older population is Bouquets of Kindness. Founded by Lisa Kirkwood, the organization works with florists, wedding planners, floral designers, and local merchants to repurpose flowers once destined for the trash. The flowers make their way, by way of Bouquets of Kindness' volunteers, to assisted living and other senior facilities where seniors gather to assemble bouquets for their rooms, their facilities and for loved ones.
"The impact is felt each and every time a delivery of fresh flowers arrives from Bouquets of Kindness—there are ooh's and ah's received as they see her bring them in. The camaraderie, excitement and joy it brings as they gather together to arrange is precious," says Kathy Rhoden, service coordinator for Riverside Presbyterian House, a public housing facility in 5 Points.
"One of the ladies owned a flower shop for years, so she teaches as she arranges. Some residents cut stems, one will hand the vases to her, ones who can't cut will fill vases with water, some deliver to a resident recently home from rehab or the hospital, or one just having a bad day, a hospice resident, or maybe pinning a broken flower on the lapel of a staff person always puts smiles on their faces."
Currently every week more than 100 bouquets are made and placed in facilities in the Riverside, Avondale and Ortega areas, at an estimated weekly value of around $5,000 in flowers. Since its inception, Bouquets of Kindness has delivered approximately 5,000 bouquets.
Kirkwood's home serves as a makeshift office and floral studio, receiving three to four deliveries a week. Her core team of volunteers, currently numbering around a half-dozen, diligently unloads, cuts and processes the flowers, getting them ready for senior hands.
In addition to the flowers, volunteers bring containers for making bouquets, scissors and other supplies that many of these facilities lack.
Bouquets of Kindness will deliver fresh bouquets to facilities or work with those facilities to provide "flower therapy" for residents, allowing the seniors to partake in making their own arrangements.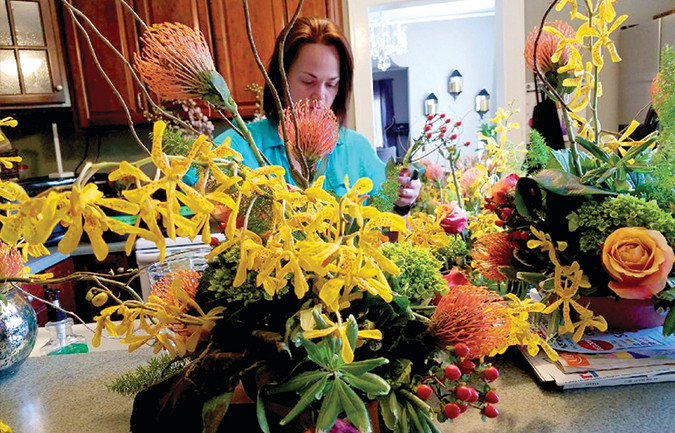 "Bouquets of Kindness has given my dad a creative outlet. When my father first moved to assisted living, he had come out of two months of intense physical therapy," says Rebecca McNeill, daughter of a resident of one of the facilities Bouquets of Kindness serves. "He could not walk long distances without his walker … stand[ing] for long periods of time [would wipe] him out. With the help of many caregivers and physical therapists, he has mobility back, but was still challenged.
"One afternoon, when flower arranging, he stood for one hour and a half before taking a break. By the flower donations being delivered to his home at assisted living, we can just walk down the hall and he can create. I can't thank them enough."
As the nonprofit grows through donations from the community and corporate sponsorships, the organization hopes to run things from a processing facility where Boy and Girl Scout Troops, homeschool groups, and other local community organizations could become part of the volunteer network. Kirkwood imagines a time when each organization could adopt a particular facility and build relationships through flowers.
At the moment, it continues as a mom-and-pop organization fronted by Kirkwood and her husband Clark. (The two also own and manage Clark's Music on the Westside.) Kirkwood delivers flowers in her 2013 Ford Fusion, pooling donations for gas for her volunteers, buying supplies for facilities, and building her network as a one-woman show looking to build bridges between young and old, one floral arrangement at a time.
"This work is critical to show that those folks are still important and people are still thinking of them—some of them have no visitors at all," says Kirkwood. "Just that spark of brightness for their room makes a big change for them and us. It matters … they matter."
____________________